A BALLOON FOR EVERY OCCASION: Send a balloon gift for every occasion
Foil and latex balloons add a decorative touch to any event. Use these pink and blue balloons for baby showers and gender reveal parties. Decorate your holidays with Cinco de Mayo balloons. And celebrate every special moment with balloons that match the theme of your party, holiday gathering, or special event. Weddings, graduations, birthdays, baby showers - if there's a special party, we provide the right balloons to brighten it up.
Buy balloons online and they will be delivered to your home
All balloons ordered through our website arrive ready and filled with helium. All you have to do is order and relax until your order arrives. Better yet, when you buy balloons through our website, you can choose the date and time of delivery so that they arrive on time
How much does it cost to fill balloons with helium?
When you buy balloons from It's Fiesta, the price includes helium filling, we pack them before delivery. And if you bought your balloons from another store, It's Fiesta can fill those balloons with helium too! Prices vary depending on the size of the balloons and not all balloons can be filled with helium, so it's a good idea to contact us in advance to confirm if you'd prefer to fill the balloons yourself We also offer mini helium tanks that are perfect for parties or small events.
Balloon Basics: Some tips when choosing balloons
Balloons have a unique ability to dazzle people of all ages. No matter the occasion, it is the perfect addition to events and parties that can add an element of excitement to every event. With all the different types and ways to use them, choosing the right balloons can be overwhelming. Don't worry - we'll give you some tips you need to choose the right balloons for your party!
Choose balloons
Usually, the choice of balloons varies according to the occasion, whether it is a birthday, a family party, or a special event. Knowing the type of party and who you're celebrating will help you decide what types and colors of balloons to purchase. Not all balloons are chosen for all occasions, and there's more to consider than you might think.
For example, for birthdays for adults, you can choose chrome balloons and combine them with white or black latex balloons to give you an elegant decoration and colors of a special splendor. But if the birthday is for a child, it is preferable to choose colored latex balloons with tin balloons to add an atmosphere of joy and joy.
For baby showers and baby reveal parties, you can choose pink balloons and blue balloons, and you can also choose to add confetti to the baby reveal balloons.
As for graduation parties, it is usually a great idea to choose latex balloons in gold and black colors and add foil balloons printed with graduation phrases!
Balloons arrangement
We love arranging balloons in bouquets, a classic way our experts recommend. The simplicity of arranging bouquets is the easiest way to add an aesthetic touch to any party. These versatile bouquets can be used as centerpieces, party décor, or as part of a gift. Instantly bring your party to life by mixing latex and foil balloons into your arrangement. There are many different design options depending on the space you are decorating. The diagram below shows 5 to 12 balloon arrangements you can create but the options are limitless.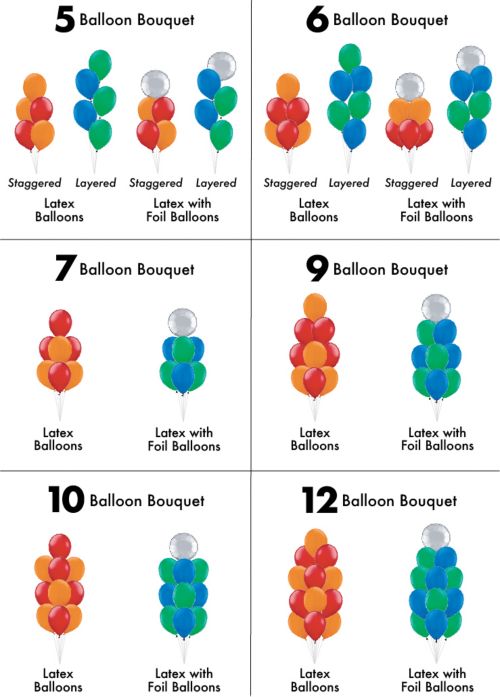 Helium balloon flight time
The flight time of helium balloons varies according to their quality, different shapes and sizes, and the amount of helium packed inside them. For example:
Latex balloons : Latex balloons usually fly between 2-3 days and may be affected by the external environment such as air or temperature
Foil balloons : This type of balloon flies for a longer period of up to 14 days and is less likely to lose helium gas faster.